CERTIFICATION
lSO9001 Quality Management System

ISO14001 Environmental Management System

OHSAS18001 Occupational Health and Safety Management System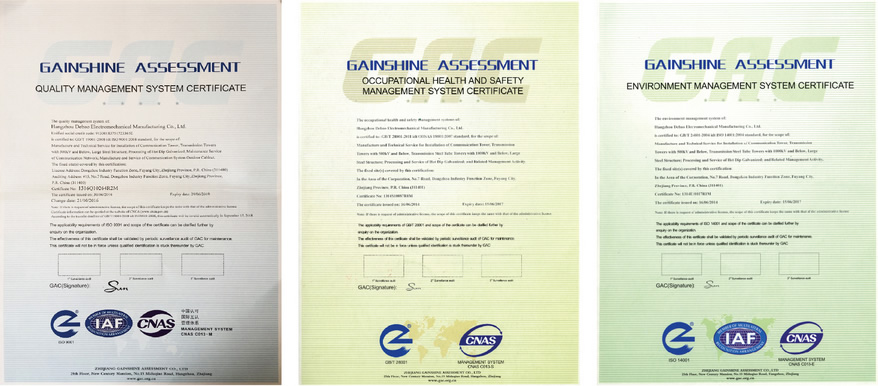 Debao Holding is proud to announce that according to its quality strategy and management vision, start the process of EN1090 Certification by Bureau Veritas and is expected to be certified during second half 2017.
The EN 1090 standards are the European standards that regulate the fabrication and assembly of steel structures and are recognized by the Construction Products Regulation 2011 (CPR). Since July 2014 structural steel CE marking must be secured to show compliance with EN 1090-1 (the harmonised European standard that applies to structural metalwork)
EN 1090-1: Requirements for conformity assessment for structural components (CE-Marking)
EN 1090-2: Technical requirements for the execution of steel structures
EN 1090 is a harmonised supporting standard that sets the requirements for conformity assessment of steel structural components with the goal to improve free trade across Europe.
For a manufacturer to be able to CE mark their structural products, they require certification of their Factory Production Control (FPC) system by a specialist Conformity Assessment Body.
LABORATORY
Debao utilizes the state of art testing equipment such as: Tensile Testing machine, Impact testing machine, NDT equipment, Metallographic equipment, etc. Debao's Quality department employs engineering professionals who are well equipped to operate within the International Standards. This commitment to Quality ensures that Debao provides to its customer with the highest quality products in the sector.